Counseling Focusing On
Specializations
Healing Your Core Beliefs
Christian Counseling
Christian Life Coaching
Sharing Wisdom ... Speaking Truth
Counseling Fees
Counseling Focusing On
Relationships

Personal Growth

Dating
Pre-Marital
Marriage
Family
Divorce
Friendships
Work Relationships
Church Relationships
Anger Management
Anxiety
Codependency
Life Coaching
Recovery Self-Esteem
Stress Management
Depression
Core Beliefs
Providing care for Individuals; Adult, Child, Adolescent.
Also Couples, Families, Groups (including work, church, friends)



Specializations
Life Coaching – Celeste Sue Benskey, M.A.
Studies have proven that setting goals, developing a plan, and having accountability brings results. Coaching can assist you with setting goals, following through and accomplishing your goals. Some areas of focus are career, education, retirement, publishing, recording, moving, spiritual growth and any other life area that you wish to measurably change.
Anxiety – Celeste Sue Benskey, M.A.
Anxiety is a rapidly growing area of concern in our hectic world. It is important to understand the signs of distress that your mind and body are sending. Identifying these signs is the beginning of turning the situation around. Learn to be peaceful, have positive self-talk, reduce stressors, focus, be assertive, handle conflict, manage time and reduce your anxiety level.
Marriage – Celeste Sue Benskey, M.A.
Build communication that allows for the expression of wants, needs, desires and concerns. Develop techniques to resolve conflicts. Experience emotional and physical intimacy. Enjoy and anticipate time together. Agree, plan and develop future goals. Heal the woundedness.



Healing Your Core Beliefs
Counseling looks back at your past to understand how you developed your personal beliefs. The process does not blame others for your experience. It provides insight to the factors that have influenced your own belief system. False beliefs can often diminish success with relationships, career, parenting, finances, studies, weight loss, Christian growth and more.
Your core belief system began to form in early childhood. Trauma and/or emotional wounds will have an impact on your belief system. Emotional wounds can affect how you react to everyday life situations. Through the counseling process your core beliefs can change from negative and false to positive and true. Changing core beliefs has been extremely effective in treating anxiety, low self-esteem, depression, codependency and relationship concerns. Call (734) 454-0155 today. You too can experience the freedom of Healing Your Core Beliefs.



Christian Counseling
Recent studies by several universities indicate that the healing results are more significant when the spiritual aspect is included in counseling. Our therapists are Christians. We offer prayer and biblical direction when the client is in agreement. Biblical truths are used to provide clarity and direction, and to uplift the client.
Many of our clients have experienced emotional wounds through past negative church or Christian experiences. We are very respectful of this reality. Prayer and biblical direction are included only when the client is in agreement.
Some of our clients are searching within their faith and some state that they have no faith at all. Many have been referred by others who have experienced healing and they want to share in that healing experience. We minister to those needs and incorporate the Christian aspect at the client's request.
Our therapists believe the biblical truths of the Gospel of John, Chapter 3. Call INNERVISION today at (734) 454-0155 and begin your journey of healing.

Philippians 4:13, "I can do everything through Him who gives me strength." (NIV)
Christian Life Coaching
Christian Life Coaching is a powerful support system that can help you move forward with personal life change. Do you want to make change in any of these areas?
Identify your mission possible
Develop your personal steps of action
Accomplish your mission possible
Achieve your personal life change
Improve your motivation
Challenge yourself in new ways
Discover your gifts
Make your career choice
Strengthen your relationships
Grow in your Christian walk
Reduce your chaos and clutter
Implement responsible choices with your finances
Manage your time more effectively
Enhance your parenting skills
And more...depending on your personal needs
Christian Life Coaching begins with creating a partnership with you. As your coach, I will walk with you in the process. Our time together will focus on what you can accomplish. You set the agenda. My coaching will be supportive of you as you move forward. You will be coached to the edge exploring options for your significant change. You may discover how to utilize your gifts in new and amazing ways. Christian Life Coaching can take place by phone anywhere in the U.S.A. or around the world. Call me today @ 734 454 0155 or use the contact page.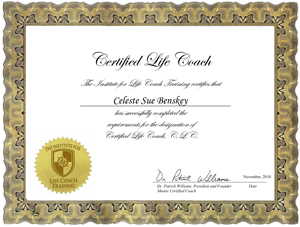 Celeste Sue Benskey, CLC
Certified Life Coach
Member:
International Coaches Federation ( ICF )
Christian Coaches Network ( CCN )
Professional Coaches Association Michigan ( PCAM )

(734) 454-0155
or select the
Contact
page.



Sharing Wisdom ... Speaking Truth
Available to speak at your church or event. Experience with ...
... enhancing the theme of your pastor's message
... delivering a message tailored for your group's event
... speaking at retreats
... teaching seminars and workshops
Open to traveling to your area. Cost determined by location and type of event.



Counseling Fees

We accept cash, check, VISA and MasterCard debit and credit cards and Corporate Health Expense cards.
We do not bill insurance companies.
We do provide you a receipt that has all the information insurance companies need to reimburse you. You simply mail this to your insurance company (address on the back of your insurance card). Most insurance companies will reimburse you.